Vancouver Island has much to offer. There are beaches to explore, trails to hike, lakes to swim, beautiful waterfalls, and massive trees to gawk at. And let's not forget the scenic drives to partake in. One, in particular, can also please the palate! Let's explore the Cowichan Valley flavour trail.
I am here to show you that you can eat and drink your way around the southern portion of the island and experience the ultimate foodie road trip.
Hold Up!
Before you dive into this magnificent flavour trail, there is something of importance to note.
It's not meant to be tackled all in one day! There are way too many stops for that.
Instead, I hope you utilize this post as a starting point when you are looking for something unique to see and do while travelling around the Cowichan Valley.
Flavour Trail Tours
If you don't have access to your own vehicle then take a tour instead! We recommend any of the following:
---
The Cowichan Valley
Being sheltered by mountains on one side and the Salish Sea on the other, the Cowichan Valley is situated in a rain shadow. This allows for more sunny days than anywhere else in Canada, creating a Mediterranean-like microclimate. This climate allows for an impressive range of small farms, vineyards, and artisanal producers, whose bounty is increasingly sought after by B.C.'s top restaurants.
Directing you north to south, let's look at the many available stops along the way on the Cowichan Valley Flavour Trail.
Chemainus
Rich with artistic culture, a warm and friendly atmosphere, a temperate climate, and full of natural ocean-side views, Chemainus is a town you don't want to miss!
This full production micro-brewery offers daily tours and samples to enjoy. Learn all about beer, its production, and most importantly, sample some great products!
Location: 101A – 3055 Oak Street, Chemainus.
Enjoy 26 Pacific Northwest craft beers on tap, and plenty of local ciders and wine. The Grill provides you with house-made menu items, authentic farm-to-table tapas and appetizers, wood-fired pizza, and a great kid's menu!
Location: 3055 Oak Street, Chemainus.
---
Duncan
With more than 80 First Nations carvings scattered around town, Duncan is well-known as being the "City of Totems". It's also the unofficial capital of the Cowichan Valley, and therefore boasts many great shopping and dining options.
A visit here will have you entering the first estate-grown tea farm in Canada! Head to the tasting bar in the Tea Shop to sample over 100 teas. The teas offered for sale are all sourced from small-scale organic tea farms from around the world. And of course, includes their own special blends as well.
Location: 8350 Richards Trail, Westholme.
These wines are produced on a premium piece of land perfectly suited for grape growing. They are 100% estate grown, organically farmed, dry-farmed, and the vinification is allowed to take place naturally without commercial yeasts and other additives.
Join Mike and Robyn in their tasting room and they will let you in on their world of wine!
Location: 6798 Norcross Road. Duncan.
Enter the tasting room in the rustic old farmhouse, and sample their wines, learn more about the winery, and meet the faces behind the business. There is also a licensed picnic area for visitors to relax. Pack your own lunch and stop by to enjoy the beautiful scenery and a glass of wine!
Location: 6645 Somenos Rd, Duncan.
Averill Creek is the only Canadian winery to receive a medal at the 2017 Global Pinot Noir Masters! They have a tasting room, dining room, and a commercial
kitchen. Adjacent to the winery you will find the garden patio, which has spectacular views of the Cowichan Valley, and is the perfect spot for a picnic. During regular hours wine is available to enjoy on the patio by the bottle or the glass. The kitchen, dining room and patio are also available to rent for events.
Location: 6552 North Road, Duncan.
This Company is a family-founded craft distillery located on a five-acre organic farm in the Cowichan Valley. They make delicious spirits designed to be a staple in your bar. Their flagship product, Ampersand Gin, is made from organic BC wheat, along with eight organic and wild-harvested botanicals and their own spring water. The Per Se Vodka is made from 100% organic BC-grown wheat.
Location: 4077 Lanchaster Rd. Duncan.
Hours of Operation: They are happy to give you a tour and a taste, but it's by appointment only. Please call (250)-737-1880 to book.
They do, however, bring their tasting room to the Duncan Farmers' Market every Saturday, as well as the Oak Bay night market during the summer.
Head inside this renovated 1940's building full of large exposed timbers. You can hang out at the 100-year-old antique bar, or relax in front of the real wood-burning fireplace in the main seating area. If you head up the wood staircase you'll pass the brewhouse behind two stories of glass. They offer a full pub menu, as well as spectacular desserts. Make sure to try their house-made beer!
Location: 25 Craig Street, Duncan.
Vigneti Zanatta is Vancouver Island's first estate winery and steeped in tradition. The family has lived and worked on the land for over half a century. Over 25 acres of their land is dedicated to growing grapes, and they use 100% of their own fruit in the vinification of their unique wines.
Location: 5039 Marshall Road, Duncan.
The beers here are hand-crafted in small batches to achieve the highest quality and boldest flavours. They offer tastings, flights, growler fills, keg rentals, tours, and all sorts of beer-related goodies on site. They also have a full-service wholesale production offered all around BC.
Location: 5255 Chaster Road, Duncan.
The Manor House is a European-style tasting room nestled in a hillside among the Blue Grouse vines. Join the friendly staff at the bar as you enjoy tastings of their extensive wine list, and savour delectable snacks. These well-established estate wines come entirely from their own vineyards!
Location: 4365 Blue Grouse Road, Duncan
Serious Coffee
Vancouver Island's coffee shop of choice! Serious Coffee started in Duncan in 1994. It has now grown to 23 locations across Vancouver Island. They purchase their coffee beans from all over the world, accepting only Arabica beans, and the best quality available. They use an air roaster to roast the beans to perfection and to give them a wonderful flavour.
Locations in the Cowichan Valley
North Cowichan: B114 – 2951 Green Road, Duncan (Cowichan Commons Mall)
South Duncan: 109 – 5462 Trans-Canada Hwy, Duncan (Sun Valley Mall)
Mill Bay: 2490 Trans-Canada Hwy., Mill Bay (Frayne Centre)
For the purpose of the Flavour Trail Map (below), it made the most sense (directionally) to use the Mill Bay location. Obviously, you can choose any location of your choice!
---
Cowichan Bay
A unique and historic waterfront community, with plenty of dining options. This quaint village is definitely worth a stroll!
Sit outside in the gardens and enjoy a glass of this award-winning wine. They even provide blankets to take the chill away. For purchase, there is also local cheese from Natural Pastures, as well as candied salmon from St. Jeans. And obviously, you can take home a bottle or two of Rocky Creek!
Location: 1854 Myhrest Rd, Cowichan Bay.
This maritime-style tavern built in 1863 is steeped in history, and not to be missed. Enjoy the casual yet elegant setting inside or the views of the marina from their outside deck. Their menu emphasizes the use of fresh local ingredients, and a great selection of wines, single malt whiskies and other aperitifs. Make sure to order the caesar salad for two, which is freshly made table-side.
Location: 1705 Cowichan Bay Road
If you love ice cream, this is the place to stop! Voted as one of the best features of the quaint village of Cowichan Bay, this artisan ice cream is made fresh (and on location) without preservatives, artificial colours, or additives. The shop also carries a great selection of candy too.
Location: 1765 Cowichan Bay Road.
Perched over the ocean at the centre of Cowichan Bay sits one of Vancouver Island's leading bakeries. In 2016 True Grain was voted as one of the Top 20 Best Bakeries in Canada, by the Huffington Post. Enjoy handcrafted organic bread and pastries, while you sit and relax with a cup of coffee and take in the vibe of the picturesque working harbour.
Please note, pre-ordering your bread is recommended!
Location: 1725 Cowichan Bay Road.
---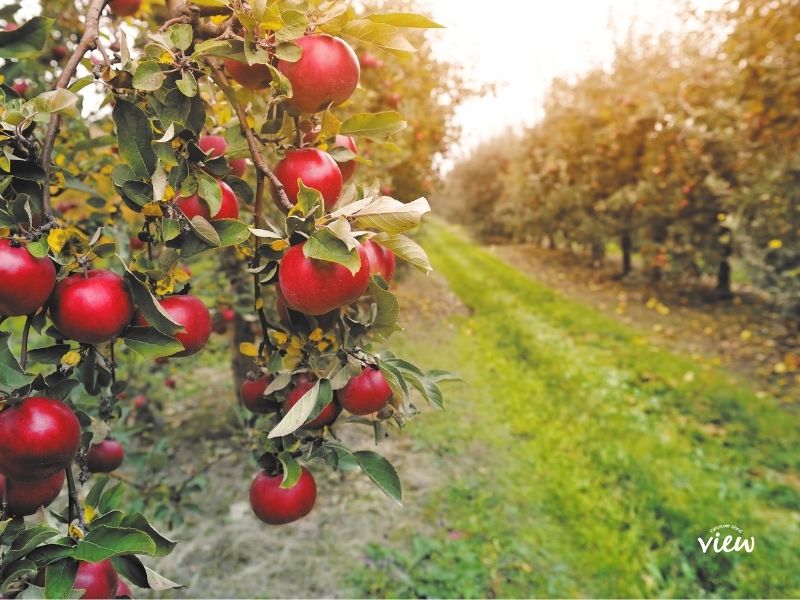 Cobble Hill
This small community is well known for its great hiking trails, paths and mountain biking opportunities, but it is also famous for its vineyards and cideries.
This is where you will find 100% estate-grown wine, as well as slowly aged balsamic vinegar. They have embraced the idea of taking viticulture to a beyond organic level. Simply put, this means that no herbicides, chemical pesticides or irrigation are used on any of their vines.
Location: 4235 Trans-Canada Highway, Cobble Hill.
Exceptional customer service and great coffee are found here. Their core philosophy is to value the relationship with customers and vendors. And their coffee comes from some of the best coffee bean producers in the world, including Columbia, Kenya, Ethiopia, Brazil, and Guatemala. If you are looking for consistent quality, this is the place to go!
Location: 24-1400 Cowichan Bay Road, Cobble Hill.
This vineyard was established in 1990 when the founders first purchased the 34 acres of land a few miles south of Cowichan Bay. At the time, wine-growing was still new to Vancouver Island, making Cherry Point Estate Wines one of the first licensed wineries here. Today the vineyard is the second largest on Vancouver Island, and produces ten main varieties of grapevines, as well as eight limited varieties…as well as award-winning wine!
Location: 840 Cherry Point Road, Cobble Hill
Stroll among the lavender, gardens, labyrinth and vineyard, browse the gift shop, or enjoy a glass of wine in the licensed picnic area. Whatever you decide to do here, make sure to try these blended wines. All of their wines are produced from fruit grown within the Cowichan region, and their signature wines are a fruit and lavender blend.
Location: 3500 Telegraph Road, Cobble Hill.
Here you will find a farm, cidery, distillery, bistro, and bakery & deli. As a boutique cider and spirit producer, they use cider apple varieties that have been proven for centuries in England, France, and Germany to make exceptional products. All of their ciders and spirits are made from 100% pure juice, and only the first pressing is used. It is then slowly and naturally fermented, to delicately bring out all of the flavours the fruit has to offer.
Grab a map at the store and take a self-guided tour of the cidery and orchard. And make sure to sample the products produced here while at the bar or in the lounge. After that, enjoy a delicious lunch at the Bistro!
Location: 1230 Merridale Road, Cobble Hill
---
Mill Bay
On the southeast shore of Vancouver Island, and the north end of the Malahat Drive, you will find this quiet waterfront town with Gulf Island views. Mill Bay is also a popular destination for biking and hiking in nearby Bamberton Provincial Park.
Home to award-winning wines and friendly people! Head to the tasting room for a sample, and to nibble on some locally made cheese. Then take a self-guided stroll through the picturesque vineyards of Pinot Noir, Pinot Gris, Ortega, Cabernet Foch, and Cabernet Libre. After that enjoy some more wine and relax in the picnic area by the trout pond.
Location: 3280 Telegraph Road, Mill Bay.
Visit this award-winning, family-owned and operated winery committed to handcrafting wines of distinction. Experience the wines in their tasting room, stroll the grounds and gardens overlooking the vineyard, and then enjoy the extraordinary tastes and hospitality at the onsite restaurant.
Location: 2915 Cameron Taggart Rd, Mill Bay
---
Helpful Tips
The Cowichan Valley's mild climate makes it a year-round destination, however, many of the locations have restricted hours during the Winter and early Spring. So, make sure to look into the hours of operation of your destination before you go. Each location mentioned above is a clickable link.
This flavour trail will most likely continue to grow as I discover even more tantalizing places to stop in the area. If there is a location you wish for me to add, please let me know.
No matter where you go on Vancouver Island, there is sure to be a memorable foodie experience waiting just around the corner!
---
Save this article for future use by pinning this image on Pinterest: