Ammonite Falls and Benson Creek Falls are one in the same, and located in Nanaimo's Benson Creek Regional Park. No matter what you call this waterfall, it's a spectacular place to visit.
Quick Trail Facts
Trail Features: Waterfall; Second growth forest with large trees; Marked trail making it easy to follow
Length: Approximately 5 km's out and back (right to the bottom of the falls)
Hazards: Can be quite muddy; Roped trail at the end down a steep embankment; Working forest
Difficulty: Moderate to steep terrain (at the end);
Suitability: Due to the hazards mentioned above, not everyone will be able (or willing) to make the final trek down the steep embankment to the falls, where the best vantage point is
Bike Trails: Mount Benson Regional Park offers plenty of mountain bike trails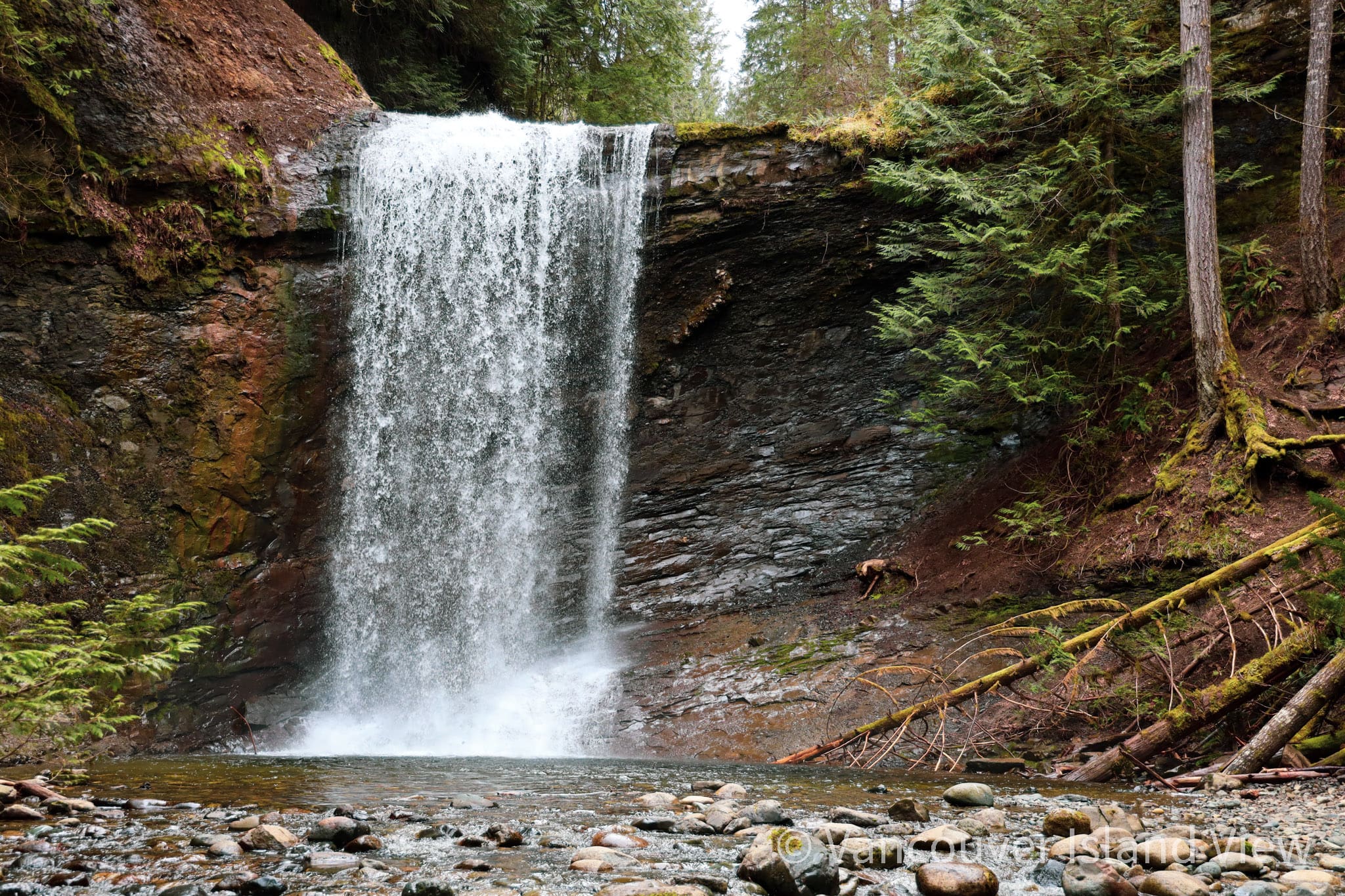 Why is it called Ammonite Falls?
Ammonite Falls is Nanaimo's most significant waterfall, which is why it's so popular. The name comes from the many fossils found in the area over the years, the largest of which was found in 2012. Fossils also inhabit the layers of sedimentary rock found around the waterfall itself. People have found small fossils lying in the creek bed as well. If you do happen to find one, please leave it in place.
Over the last few years, the RDN has significantly improved the trail. What was once a confusing walk is now a carefully marked trail with tons of signage. If you follow the signs, you can't possibly get lost.
More recently, a large footbridge replaced the log bridge crossing Benson Creek, found on the trail that leads from Weigles road. And further improvements are currently taking place on this portion of the trail.
A viewing platform and staircase has been built to replace the rope system that used to lead down to the waterfall. Thanks to this platform, the waterfall is accessible to more people.
How Long of a Hike to Ammonite Falls?
There are two access points to get to Ammonite Falls. The more popular and easier trail is via Jameson Road; the other is located off of Weigles Road. Both trails are approximately 5 km's total (there and back); however, the trail from Weigles is slightly more difficult in regards to elevation gain and, as stated above, is currently being worked on.
Both ends of the trail have plenty of signs to guide you along the way.
The trails you walk along traverse through a working forest used primarily by VIU Forestry students. Private landowners also surround Benson Creek Regional Park, so please stay on the designated trails.
Once you reach the waterfall, use the new viewing platform and staircase to view the beautiful waterfall.
The waterfall cascades off a rock cliff featuring many visible layers of rock. The falls tumble into a small pool below. As with every waterfall, it is most significant during winter and spring when water flow is the highest. Benson creek runs year-round, but it can get down to merely a trickle during dry summers.
Where is Ammonite Falls Located?
Ammonite Falls can be found in central Nanaimo and can be accessed via two locations.
Via Jameson:
From either side of Nanaimo, take Jingle Pot Road off of Hwy 19 (Nanaimo Parkway)
Follow for several km's and turn onto Kilpatrick Road
Turn right onto Jameson Road
Turn right onto Creekside Place where you'll see a large parking area. Do NOT park anywhere other than this parking area, as you will get towed.
Once parked, walk back up the hill to Jameson and turn right to follow the trail past the gate.
Continue to follow the Ammonite Falls trail signs
Via Weigles:
Take the North Jingle Pot exit off of Hwy 19 (Nanaimo Parkway)
Turn right onto Biggs Road
Biggs Road becomes Weigles Road
Park in the designated parking area for Benson Creek Falls
Continue to follow the trail signs to Ammonite/Benson Creek Falls
---
Other Great Nanaimo Trails
Have you been? Let us know about your experience in the comment section below.
To save this article for future use, please pin this image on Pinterest.