Featuring a thundering waterfall, suspension bridge and an old-growth forest, Elk Falls Provincial Park is a sought-after location.
Quick Park Facts
Features: Waterfall, suspension bridge, old-growth Douglas fir stand; deep rock canyons
Park Size: 1,055 hectares
Trails: 6 km trail system
Suitability: Everyone! A number of the facilities within the park are wheelchair accessible
Hazards: The trails have Cow Parsnip, which looks much like Giant Hogweed. Although not as dangerous as Giant Hogweed, can also cause skin irritations.
Bike Trails: Yes! See below for more detail
Camping: Large campground consisting of 122 vehicle accessible sites
Washrooms: Both Flush and Pit toilets are available; The campground has a sani-dump station
Pets: As this is a Provincial Park, dogs must remain on a leash at all times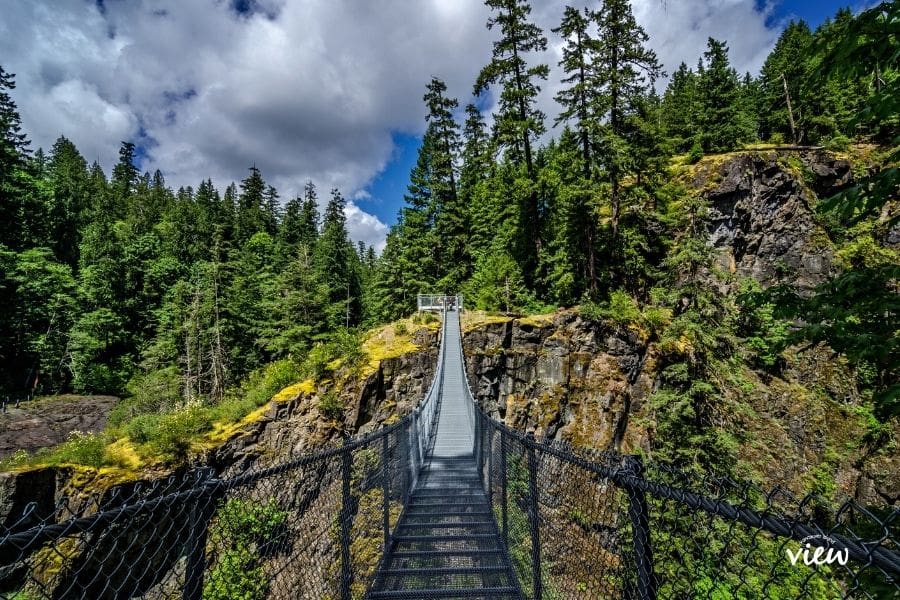 Elk Falls Day Use Area
The day-use area at Elk Falls is where you access the waterfall and suspension bridge. The large paved parking area has several stalls suitable for those with mobility issues. As well, the pit toilets, picnic tables and a portion of the trail system are all wheelchair accessible. The first set of viewpoints are along a trail that is at a grade of 5% or less and hardpacked, and there is safety fencing in place. Unfortunately, the trail beyond that, including the suspension bridge is where the accessible trails end.
Elk Falls and Trails
This 25 meter (82 foot) waterfall is an easy 30-minute walk from the parking area, however, continuing along the trail is highly recommended. The trail to the waterfall is clearly marked, relatively flat, wide and well maintained. Along the trail, you come to a metal bridge that crosses over three large pipelines. These pipelines were built in 1946 to move water to John Hart Dam.
Continue along the trail until you reach the viewing platforms and suspension bridge. The lower platform provides the best view of Elk Falls.
For a longer walk, I encourage you to explore the expansive trail system which gives you access to beautiful pools along the river that are great for swimming, as well as a closeup view of the waterfall where you can feel the spray on your face. Moose and Deer Falls are also accessible via this trail system and there are signs within the park showing you the way. The short "Old Growth Loop Trail" is also highly recommended.
Mountain Biking
Mountain biking is restricted to the Pumphouse trails, which connect to the Snowden demonstration forest trail network. Use this BC Parks map to help guide you to the mountain biking trails.
Suspension Bridge
The creation of the suspension bridge is thanks to the Rotary Club of Campbell River in partnership with BC Hyrdo and BC Parks. Spanning 60 meters and hanging 64 meters above the canyon floor, the Elk Falls suspension bridge is one of the highest in Canada.
Walking to the middle of the bridge gives you an incredible vantage point of Elk Falls Canyon. This is an over and back type of bridge, as there is only a small landing on the other side.
Quinsam Campground
There are 122 vehicle accessible sites at this campground. While the majority are set in the second-growth forest, 25 are situated along the Quinsam River, and much sought after! As this is a Provincial Park, there are no services (electric or water) provided at your campsite. There is, however, a sani-dump station available in the campground. This is also where the flush toilets are located. Pit toilets are found throughout the campground.
This campground features an adventure playground with barrier-free play structures and a large playing field. Both the Quinsam and Campbell rivers provide great freshwater fishing opportunities. You must have a proper fishing license to do so.
The campground is located 3 km from the Elk Falls Day Use Area, which is accessible via a well-marked trail if you wish to walk.
Campsite reservations are highly recommended and made through Discover Camping.
You can camp here year-round, however, services aren't available during the off-season (winter months), but the rate is much lower.
Getting There
Located only 3 km from Campbell River, Elk Falls Provincial Park and Day Use Area are easy to access.
Follow Hwy 19 towards Campbell River
Turn onto the Island Hwy (Hwy 19A) towards Gold River (Signs for BC 28 West/Gold River)
Hwy 19A turns into Gold River Hwy (Hwy 28)
Watch for Quinsam Campground and Provincial Park signs
To access the Day Use Area, continue to follow the signs along Hwy 28
---
Have you been to Elk Falls? Did you cross the suspension bridge? Have you camped at Quinsam Campground? Let us know about your experience in the comment section below.
To save this article for future use, please pin this image on Pinterest:
*Front feature image shot by Dave Mantel courtesy of Getty Images