Are you looking for a great Vancouver Island road trip idea? Explore the road less travelled and head towards the scenic and culturally rich towns of Vancouver Island North.
Known locally as the Island Highway, Highway 19 is the main thoroughfare that connects the communities of Vancouver Island North with Nanaimo, plus many towns in between. The route between Nanaimo and Port Hardy (the furthest north you can drive on the Island) is approximately 390 km. So while you can definitely do the trip in one day, it's always recommended to take it slow to enjoy all the sights.
The Locations In-Between
We already have several articles that showcase the various activities to see and do in and around Nanaimo, Oceanside (Nanoose Bay – to just north of Qualicum Beach), and the Comox Valley. So with hopes of not repeating ourselves too much, this article showcases the must-see highlights of a Vancouver Island road trip starting in Campbell River.
If you need some guidance for the top things to see before reaching Campbell River, please search the extensive list of articles under the following categories:
If you wish to read more about a certain area mentioned below, each location has links to further information.
Is North Vancouver Island Worth Visiting?
We get this question a lot when tourists have an upcoming trip planned to Vancouver Island. And our answer is always, "Yes!". But, there's a catch, for you can't visit this area without having access to a vehicle. So a rental car is a must! Once you have secured one, your options are limitless, and a trip to the north end of the Island is definitely encouraged!
It is the least developed area of the island, which is why there is an abundance of wildlife. On any given trip, expect to see black bears, deer, elk, and an overabundance of eagles; and when on or near the water, seals and sea lions, otters and whales.
The lush and rugged rainforest provides plenty of wonderful opportunities to hike and camp. And the villages dotted throughout the area provide amazing cultural experiences.
Vancouver Island North Must See's
Campbell River Area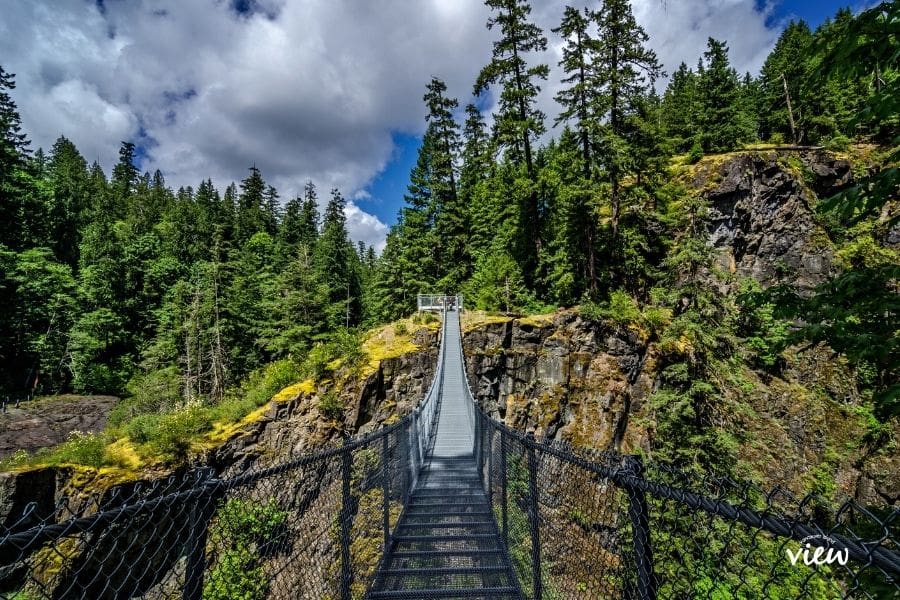 Elk Falls Suspension Bridge
The thundering waterfall, as well as the newly built (2015) suspension bridge over Elk Falls Canyon, makes this area in Campbell River a sought-after location.
Crossing the bridge provides access to an incredible view of the falls. For those who would rather not make the crossing, there is a viewing platform located just before the bridge.
The Elk Falls Provincial Park is only 3 km from the Elk Falls Day use area and is considered one of Vancouver Island's best campground accommodations. There's an extensive 6 km trail system within the Park, which is home to the only significant stand of old-growth Douglas fir north of MacMillan Provincial Park (Cathedral Grove).
For more information about this area, read Elk Falls Provincial Park.
Strathcona Park
If you are looking for a place to unwind and get away from it all, Strathcona Park is your destination.
The quietness, fresh air, breathtaking views of lakes and mountains, and an overabundance of waterfalls will recharge your soul like no other place. With no cell coverage, no WiFi, and the only amenity being pit toilets, you are quite literally leaving the rest of the world behind.
Strathcona Park is the oldest Provincial Park in BC, and with over 250,000 hectares to explore, it is also Vancouver Island's largest. The area provides you with various hiking and walking trails of varying difficulties, as well as plenty of camping opportunities. Due to the size of this park, it is best enjoyed over a few days.
For an in-depth look at what this beautiful area offers, read our article on Strathcona Park.
North Island Route
The stretch of Highway that extends past Campbell River is named the North Island Route. This section of paved, double-lane highway is particularly scenic, offering views of jagged mountain peaks, expansive forests and frequent wildlife sightings. The highway is well-maintained and motorhome friendly.
Little Huson Caves
Located within the Regional District of Mount Waddington, Little Huson Caves offers us a small yet spectacular taste of the karst topography found on the island.
The park is centred around Atluck Creek Canyon, which is an area of breathtaking natural beauty. There are a number of amazing karst features to view and explore, as well as 15 known caves.
One of the best features of this park is that you don't have to go underground (unless you want to) to experience and view these natural phenomena.
To learn more about this incredible area and how to get there, please read our subsequent article on Little Huson Caves.
Telegraph Cove
This postcard-ready boardwalk community is nestled at the northern end of Johnstone Strait. From its preserved historic multicoloured buildings on stilts to the picture-perfect ocean views, Telegraph Cove remains an iconic eco-tourism destination on Vancouver Island.
During the summer, this snug little community bustles with travellers eager to view whales, catch fish, camp and kayak along the sheltered waters and secluded inlets. With its many eco-tours, it's a village that offers a great selection of truly magnificent adventures and activities you can partake in.
A must-see and do is a guided trip to the Broughton Archipelago.
For an in-depth look at the best things to see and do while in Telegraph Cove (plus where to stay), please read the following article:
Exploring the Picturesque Village of Telegraph Cove
Port McNeill
Port McNeill is a proud forestry community. So it makes sense that while there, you can view the world's largest burls (there are two!).
The world's second-largest burl (formerly the largest burl) was cut from the base of a 351-year-old Sitka Spruce tree in 1976. This burl weighs an estimated 22 tons and measures 13.7 meters in circumference. At the time of its discovery, it was the largest burl. However, it was displaced from its position by a discovery in 2005.
It's located in a not-so-blatant area in the centre of town and protected by trees, bushes and a structure (in what looks like an abandoned parking lot). Please note the signpost near the burl hasn't been updated and still says "the world's largest burl."
The largest of the two burls was carved off a tall Sitka Spruce tree near Holberg in 2005. It is 6 meters tall, and 6 meters in diameter and weighs an estimated 30 tons. This one is located just out of town, off of SW Main Road (off of Hwy 19 N).
Port McNeill is also a gateway to two fascinating northern islands one must explore (see below).
Malcolm Island
This is a place where Orcas go to rub up against the smooth pebbled beach and where humans go to create lasting memories.
While relatively small in size (24 km long and 3 km wide at its narrowest point) and with a population of only 684 (2016), Malcolm Island offers much to its visitors. You will find breathtaking scenery, great outdoor experiences, ample wildlife viewing opportunities, and fascinating history.
Malcolm Island is linked by a 25-minute ferry ride from the Port McNeill harbour.
The Ferry service runs seven days a week between Port McNeill, Sointula, and Alert Bay.
It's a bit of a convoluted schedule, so make sure you check the BC Ferries' website for updates before you go.
To discover more about this beautiful location, please read all about Malcolm Island here.
Alert Bay (Cormorant Island)
Explore this working coastal town that proudly celebrates its First Nations and Pioneer heritage. From the world-renowned U'mista Cultural Centre to the world's tallest totem pole, Alert Bay is known internationally as a centre for First Nations Culture. And if you ask me, it's a must-see stop on any Vancouver Island North road trip!
Getting There
Cormorant Island, home of Alert Bay, is linked by a 35-minute ferry ride from Port McNeil.
The Tri-Island Ferry service runs seven days a week between Port McNeill, Sointula, and Alert Bay.
For the best things to see and do while in Alert Bay, please read this article:
Cormorant Island – Where the Past and Present Collide
What is the most northern point of Vancouver Island?
Port Hardy marks the end of Highway 19 and is the northernmost town found on Vancouver Island. It is a gateway to many outdoor activities, including fishing, world-class scuba diving, caving, kayaking, boating, hiking, and nature viewing.
Things to See and Do in Port Hardy
Top things to do in Port Hardy
Stroll the miles of sand or build sandcastles on Storey's Beach.
Walk along the beautiful boardwalk trail.
Explore the tidal pools in Hardy Bay at low tide.
Walk the seawall of Hardy Bay and read the interpretive signage along the way.
If you have your own boat, head to God's Pocket.
Visit Fort Rupert and view the totems and big house.
Follow the old-growth nature trail along the Quatse River and Estuary Loop.
Take a guided tour of the fish hatchery and view world-class exhibits and interactive displays.
Dive at Bear Cove – a haven for marine life!
Go on a guided fishing charter and try catching the 'big one'.
Indulge in candied smoked salmon made by famous locals, 'Hardy Buoys Smoked Fish'.
Head to the Port Hardy Museum for a history lesson.
Hike to a plane crash.
Storm watching at the Blow Hole at Thomas Point.
Drive to Coal Harbour and/or Cape Scott…
Coal Harbour
Vancouver Island's Coal Harbour has a lot of history, and the little museum that's there is chocked full of it! This is also the place to go for the BEST fishing opportunities…if you have your own boat. It's also the gateway to Winter Harbour and Quatsino Sound.
Read more about it here: Coal Harbour.
San Josef Bay and Cape Scott
Due to the many stunning images floating around social media platforms, this incredible area of Vancouver Island North is becoming increasingly popular.
It's a walk-in-only park, and the one parking lot is only accessible via a very long drive down a rough logging road. However, if you are up for the adventure, you will have access to pristine rainforests, majestic beaches and unspoiled nature.
Please note: If you have a rental car, and depending on their policies, driving this road may not be permittable. Please check in with the rental company before you go!
Read more about this incredible area here: Cape Scott
---
Need a Place to Stay?
As mentioned above, Port Hardy is the gateway to many great activities and adventures for the northernmost areas of Vancouver Island. It's also the perfect location to lay your head. Here are some great Port Hardy hotel recommendations:
If you'd rather rent a place of your own:
Vacation rentals in Vancouver Island North
---
What are your favourite sights or things to do while visiting Vancouver Island North? Let us know in the comments below.
Save this article on Pinterest for future use: