Whether you are a local, or just visiting the area, Fall is the perfect time to explore Vancouver Island. The top two reasons are the weather and minimal crowds. Fall also happens to be my favourite season, which is why I created this Vancouver Island fall bucket list.
The Weather
Vancouver Island is well known for having some of the warmest and most temperate weather in Canada. This mild weather allows for recreational outdoor activities to be enjoyed year-round. So, while you might experience a light drizzle here and there, plan on comfortable temperatures from September to early October. The closer you get to winter, the rain increases, and the temperature does drop. However, if you pack a few cozy sweaters and an umbrella don't worry too much about letting the weather get in the way of your agenda.
Less Crowded
Summer is by far the most popular time to explore and visit Vancouver Island; with the second being late spring, or more specifically May and June. So, with fewer crowds in September, October and November, it's safe to say that Autumn is the ideal time to get out there!
You might be asking yourself, "But what should we do?". "Where should we go?".
Don't worry, I've got you covered!
Read below for a full list of ideas on what to see and do. It's your ultimate Vancouver Island fall bucket list.
Vancouver Island Fall Bucket List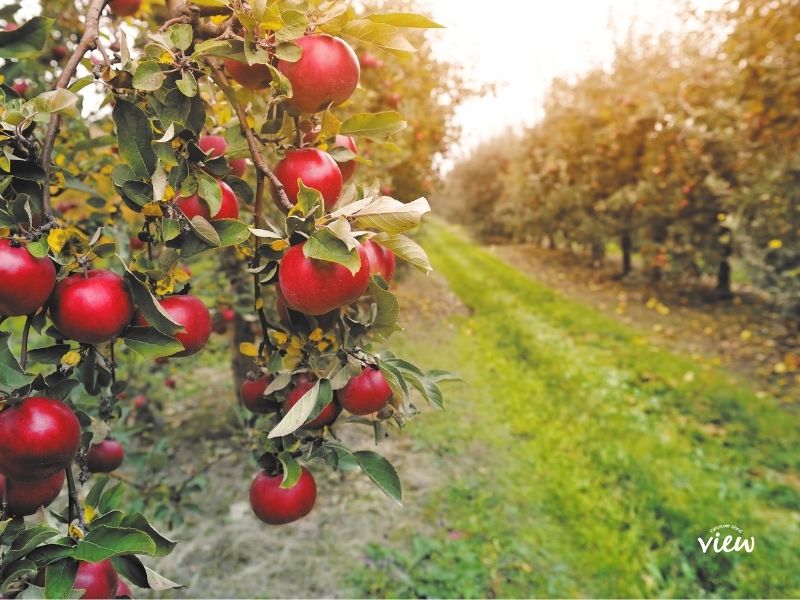 Wine and Food Tours
Now that the crowds are gone, it's the perfect time to tour some local wineries. Both Cowichan Valley and Comox Valley have many fantastic ones to choose from. A favourite of ours in the Comox Valley is 40 Knots Winery. To indulge in the epitome of an autumn activity, make sure to put Merridale Ciderworks, located in Cobble Hill, on your list. And while you are in the area, I highly recommend following the Cowichan Valley Flavour Trail for many other worthwhile stops.
For those who like guided tours, there are many to choose from. Here are a few of our favourites:
Best Places to see Fall Colours
Butchart Gardens
As warm days transition to crisper nights, the magnificent colours of the maple trees emerge at Butchart Gardens. The Japanese Garden is especially beautiful at this time of year. And In November, the gardens become extra quiet, making it a peaceful place to sit and ponder the day away.
Many of the manicured gardens around Vancouver Island that are in their prime during spring are also worth a visit in autumn as well. This list will help you find them: Best Public Gardens. Some have an entry fee, while others are completely free.
Port Alberni
Port Alberni is my favourite place to explore in autumn, especially closer to October. There are just so many trails surrounded by large maples, which offer a spectacular colour show. Here are a few great places to start:
Stamp River Park – Although a beautiful park at any time of year, it's especially so when the leaves have changed.
Kitsuksis Creek – For a beautiful waterfall, spectacular trestle and more than enough fall colours to gawk at, this walk is a must
Maplehurst Trail – the name should say it all!
Watch the Salmon Run
This is the time of year when salmon become brightly coloured and make their natural journey into the next phase of their life. There are several locations to view them around Vancouver Island, but here are a few of our favourite spots:
Campbell River (the actual river) in late August to mid-September and the Quinsam River Hatchery from September until November.
Stamp River (in Port Alberni) starting in late August, salmon start circulating in the pool below the waterfall. As the season progresses, they start ascending the fish ladders on their way up to the spawning bed.
Big Qualicum River – From mid-September until mid-November, Chinook and Pink salmon return to the hatchery and spawn. Consequently, the rivers and channels are full of active fish (and dying fish) which attract all types of birds and wildlife.
Goldstream Park (near Victoria) from mid-October to early December. Goldstream is also a beautiful place for fall colours as well.
Seeing Wildlife
Grizzly Bear Tours
Starting in late August, the grizzly bears on the mainland start heading down to the local rivers and streams to fish. As Vancouver Island doesn't officially have grizzly bears, a guided boat tour is the way to see these magnificent beasts. And although the tours are rather expensive, if seeing grizzlies up close is on your bucket list, I highly recommend booking a tour. It's a full-day experience you won't regret doing!
To find out all the details and for a firsthand account, read this article: Campbell River Grizzly Bear Tours.
In the Wild
If doling out money to see wildlife isn't your thing, don't worry, there are still plenty of opportunities for you. Although you most likely won't see a grizzly bear, Vancouver Island has many other types of wildlife that are abundant during the fall. Elk, in particular, make their way into town quite frequently, especially in the Cowichan Valley. Head to the Lake Cowichan area, or in particular, Youbou, for your best chance of seeing Elk.
Black bears are also plentiful, especially anywhere north of and including Campbell River. They are also frequently seen in and around most fish hatcheries during the fall all around Vancouver Island. (See salmon run above for those locations).
Ghostly Encounters
Victoria is known for being the most haunted city in BC, and many businesses fully embrace this title to draw in tourists, especially as it gets closer to Halloween. There are guided tours, ghostly walks, and even bus tours to enjoy. If you want to venture out on your own, there are several locations in Victoria, as well as other areas of Vancouver Island, that are said to be haunted. You can read about them here: Most Haunted Places on Vancouver Island.
Walking around Victoria's most historic sites is something many people enjoy doing, but when you know about the detailed history of each location it's even better. And because many of the famous sites have been around since the early 19th century, several locations have their own unique ghost stories. You can read all about these must-see Victoria locations and learn about the history in our very own ebook: Victoria's Historic Sites.
Get Lost in a Corn Maze
Quintessential to Fall are corn mazes and pumpkin patches! For a full list of pumpkin patches, you can read this: Vancouver Island Pumpkin Patches. However, for a quick rundown, here are our favourites:
If you are near Victoria, head to Galey Farms and enjoy their Pumpkinfest during the month of October, which includes a 6-acre corn maze.
A great one in Yellow Point (near Nanaimo) is McNabb's. This family-friendly farm is full of fun fall festivities.
A bit further north in Parksville, you'll find Silver Meadow Farm. They too have a fun corn maze and other great fall activities.
And when in the Comox Valley, Coastal Black is a must!
---
Well, there you have it, our ultimate Vancouver Island fall bucket list. What would you add? Let us know in the comment section below.
To save this article for future use, please pin this image on Pinterest: