Juan de Fuca Provincial Park is located on the west coast of southern Vancouver Island. The area offers incredible scenic views, great hiking opportunities, spectacular marine and wildlife viewing, and a roaring surf along the rugged coastline. If experiencing a more wild side of Vancouver Island is something you are interested in, exploring Juan de Fuca Park is a great choice.
There are four main areas to the park: China Beach Campground (1), China Beach day-use area (2), the Juan de Fuca Marine Trail (3), and Botanical Beach (4). Within these areas, you will find all kinds of amazing hidden gems just waiting to be explored.
China Beach Campground (& Second Beach)
If you love to explore, this campground and its location is the perfect resting point. It offers seventy-eight spacious drive-in campsites surrounded by trees.
While there are a few first-come, first-served sites, I highly recommend making a reservation.
Some facilities are wheelchair accessible, and pit toilets and water taps are located throughout the campground. It might be good to note, there are no showers facilities and no sani-station/dump facilities at this park. (The closest sani-station is at French Beach Provincial Park – located further towards Sooke).
Remember this is a wilderness area – black bears and cougars may be present. It is also of great importance to note that there is no cell coverage in the area. There is, however, a camp host available at all times.
The campground is open from mid-May to mid-September. If you are looking to camp at any other time of year, French Beach Provincial Park is open year-round.
Second Beach
Follow any of the marked beach trails from China Beach campground and you will arrive at Second Beach. It should take you approximately 15 minutes to arrive at your destination.
You are heading downhill almost the entire way to the beach, and there are quite a lot of steps near the bottom. Although easy to manoeuvre on the way down, the steepness of both the trail and stairs can get tricky on the way back up (especially for little ones). Rest assured it is a short 1 km trail.
Once on the beach, and if the tide is out, it is possible to walk along the shore to China Beach.
China Beach day-use area & Juan de Fuca Trail
From the China Beach day-use area (which is found further along Hwy 14) you will find trailheads for both China Beach and the Juan de Fuca trail (which leads to Mystic Beach).
The lower parking lot on your left is the China Beach access, while the first parking lot on your right is for the Juan de Fuca trail and Mystic Beach.
China Beach
The trail to China Beach is a short 15 – 20 minute walk downhill. The gravel trail is well maintained but can be strenuous at times (especially on the way back up). You will be hiking through a forest of Sitka spruce, Douglas fir and Western Red Cedar all the way to the beautiful fine sand beach.
China Beach is a great place for dogs to frolic, and for kids to play and build sandcastles. After the tide recedes, it's also a great place to beach comb.
During the spring and fall, you may be able to see grey whales in the distance, as this area is their migration route. Experts say that as many as 17,000 whales travel this route.
Mystic Beach
For day-trippers, the first 2.5 kilometres of the Juan de Fuca trail connects you to incredible Mystic Beach.
The approximate 45 min hike from the parking lot will lead you through a beautiful ancient forest on a well-maintained trail. About halfway down you will come to a cool suspension bridge. So yes, the trail to Mystic Beach is long and sometimes strenuous, but I can assure you, totally worth it!
In order to make the most of your trek, make sure you are on the beach during low tide. It's best to check the tide schedule before you go. But remember, the area has no cell coverage, so you need to plan ahead!
Once you have arrived at the beach there is plenty to discover. Head west (right, if you are staring at the ocean) and you will find some small caves to explore. Head east (left, if you are staring at the ocean) to discover a waterfall that drops down to the shore. At low tide, you can walk right underneath these falls.
Take a look at the bluffs along the shoreline, and you will notice several layers of multi-coloured earth. It's truly a spectacular sight. (Again, best seen at low tide).
Sandcut Beach
This 3.5 km long cobbled beach is part of the Jordan River Regional Park. The beach offers spectacular views of the Olympic Peninsula and boasts an impressive waterfall at the south end of it.
From the parking lot of the Jordan River Regional Park, the walk to the beach is only 15 minutes. Although a relatively easy trail, there are quite a few stairs to climb up and down along the way.
The waterfall is best viewed in the Spring, Winter and late Fall.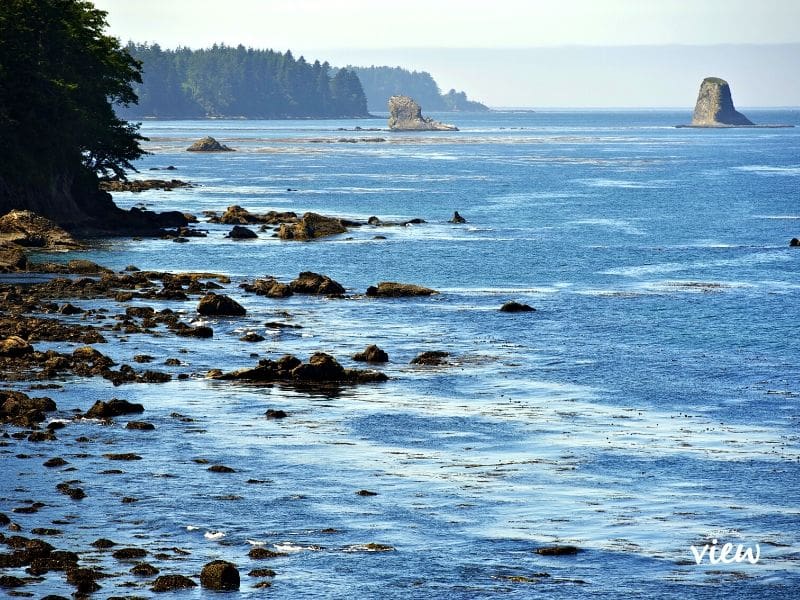 Juan de Fuca Trail
As mentioned above, the trek down to Mystic Beach is the beginning of the Juan De Fuca Marine Trail. The entire trail is 47km in length and takes you through the wilderness along the southwest coast of Vancouver Island from China Beach to Port Renfrew.
Most of the trail is designed for strenuous day or multi-day hiking throughout the rugged and isolated Juan de Fuca Park area. However, as with Mystic Beach mentioned above, there are some easy to moderate day hiking opportunities available too.
The trail was created through the Commonwealth Nature Legacy as an enduring reminder of the 1994 Victoria Commonwealth Games. The natural beauty of the area, as well as being accessible to all, was considered a fitting tribute to the spirit of the Games.
Construction and preservation of the trail have been made possible by the efforts of the government, local industries, and citizens. Land exchanges and gifts of land have come from Western Forest Products and Timber West. The trail continues to be upgraded with funding from Forest Renewal BC and the Environment Youth Team (E-Team).
If you plan on hiking the full length of this trail, please remember that hiking (and weather) conditions are always changing. Please obtain up-to-date information before proceeding further on the trail by checking the trailhead information shelters.
Sombrio Beach
In between the China Beach day-use area and Botanical Beach, there is another beach that one should not miss out on. Sombrio Beach not only has a unique shoreline consisting of small pebbles and rock pools but it's also well known as a world-class surfing area.
The area also has a spectacular hidden gem too!
Just above the shoreline, there is a well-hidden waterfall. And I can assure you, the effort it takes to find and get to the waterfall is oh, so worth it!
Sombrio Beach can be reached via a 250-metre access trail from the Sombrio Beach Trailhead parking lot, off Hwy 14. Please note that the access road to Sombrio Beach is a loose surface road and may not be suitable for all motor vehicles. It has steep grades, sharp curves and limited visibility.
The road is also not labelled! Approximately 400 meters before you need to turn off, there will be a sign that indicates Sombrio Beach access will be coming up. Watch closely for a gravel road.
As Sombrio Beach is part of the Juan de Fuca Trail, there are three designated camping spots right on the beach. So don't be alarmed to find lots of tents and camping gear strewn along the shore. You will also most likely see many hikers with all their gear walking the shoreline too.
Secret Falls
To access the hidden waterfall, head east (left, if you are facing the ocean) once you are on the beach. You will be searching for a small streamlet that comes from the left that eventually heads down to the ocean. It doesn't seem that difficult, but there are actually quite a few of these little streamlets, so you need to find the correct one!
The first clue that you are getting closer to the correct streamlet (and ultimately the hidden falls) is the appearance of cave-like rocks. A little past these caves is the streamlet you are looking for. (But I urge you to stop and explore the small caves too!).
Once you have found the correct streamlet, you will follow that watercourse uphill (you should also notice a beaten track). It won't take long before you see two huge moss-covered rocks. Enter this canyon and behold! The sight will surely take your breath away.
Botanical Beach
Botanical Beach is a true gem of the rugged west coast. The area offers visitors access to amazing tide pools full of a variety of marine flora and fauna. Inside these tide pools, you have a chance of seeing intertidal life such as starfish, crabs, snails, sea cucumbers, sea urchins, mussels, and sea anemones (to name a few).
The area is so biologically significant that the University of Minnesota installed the first marine research station in the Pacific Northwest at Botanical Beach in the early 1900s. Although there are only a few remains of the marine station left today, the area is still used for research by a number of universities in BC and Washington.
While exploring the area, please use caution. The rocks you are walking on can be very slippery and dangerous. Waves or a series of waves often crash against the shore unexpectedly. So keep small children away from the surf. And please respect ALL natural objects found within the park. It is best to adopt the 'look but don't touch' policy. You are not permitted to remove, collect or disturb any tide pool life, shells, plants, flowers, kelp, etc. Remember, photographs make great souvenirs!
Dogs are required to remain on a leash at all times while in this area.
This is another area that is best visited at low tide. In fact, a low tide of 1.2 metres or less is best for viewing the tide pools.
Getting There
Stay on Highway 14 until it ends at Port Renfrew.
Once in town, take a left uphill just when you enter the harbour area. Follow the road (approximately 5 min) to the Botanical Beach parking lot.
A 2.8 km loop trail from the parking lot leads to Botanical Beach and Botany Bay. Some parts of the trail are elevated with wood paths and stairs. The east end of Botanical Beach connects with the Juan de Fuca Trail.
Local Accommodations
If camping isn't your thing, please check out our post on nearby Sooke for some recommended accommodations. There are also a few options in Port Renfrew too.
So tell me, have you been to any of the above-mentioned locations within Juan de Fuca Park? Which are your favourite places to visit? Let us know in the comments below.
Save this image on Pinterest for future use: