There are over 120 Vancouver Island Provincial Parks! This includes parks found on the smaller islands surrounding Vancouver Island, as well as Marine Provincial Parks. This large number also includes the three National Parks found here but doesn't include Regional Parks, of which there are many.
British Columbia as a whole has 644 Provincial Parks and 148 Ecological Reserves, totalling 14,112,434 ha of parkland. Compared to the rest of BC, Vancouver Island and the smaller islands surrounding it have a great proportion of land designated as parkland. According to my calculations, a grand total of 537,048.7-hectares, to be exact. It's no wonder visitors flock to our beautiful paradise!
The following is a list of all 128 Vancouver Island Provincial Parks, Marine Provincial Parks and a few Ecological Reserves maintained by the BC Government. As mentioned, the list also includes the three National Parks found here too, making the total parks listed below at 131. To keep it organized, the parks are listed alphabetically.
The parks already showcased on our website are linked in blue and can be clicked for more information. As we continue to write about more of these parks, I will update the links and list.
*Acronyms used below:
PP: Provincial Park
PMP: Provincial Marine Park (typically only accessible by boat, unless otherwise specified)
ER: Ecological Reserve managed by the BC Government
NP: National Park – park managed by the Government of Canada
A Note About the Sunshine Coast
British Columbia's Sunshine Coast is only a short boat ride away from Vancouver Island, and there are many small islands in between the two areas. When looking at a map, it's hard to decipher where one area ends and the other begins. For this article, I used Texada Island as my reference point, calling Texada part of the Sunshine Coast and not including it nor any islands further east of it in the list below. However, it's a fairly muddy boundary, and boaters often island jump to the many Provincial Parks and Provincial Marine Parks in both areas all in one day. Perhaps in a later article, I'll make a note of all of the parks within the Sunshine Coast as well.
A – B Vancouver Island Provincial Parks
Arbutus Grove PP: This small 22-hectare park near Lantzville is a bit of a hidden gem and protects a grove of beautiful Arbutus trees.
Artlish Caves PP: Located between Woss and Zeballos, this 285-hectare park was established to protect the last remaining undisturbed karst areas of Vancouver Island.
Bamberton PP: There are 53 vehicle-accessible campsites available at this 28-hectare Provincial Park located near Mill Bay. It's also a popular swimming spot due to the warm waters of the sheltered inlet.
Bellhouse PP: Located on Galiano Island, Bellhouse is a small 2-hectare day-use park that's great for picnics. The area provides excellent views of the very busy Active Pass.
Bodega Ridge PP: This Galiano Island day-use-only park has a 4-km ridge rising 328 meters above sea level. Although this 397-hectare park has no developed facilities, its inspiring scenery and wildlife viewing opportunities make it a popular destination for hikers and passing boaters.
Boyle Point PP: This scenic 188-hectare day-use park located on the southern tip of Denman Island is a popular place to explore. The forested trail has some of Denman's oldest and largest trees and leads out to spectacular views of Baynes Sound and the Chrome Island Lighthouse.
Burgoyne Bay PP: Located near Fulford Harbour on Salt Spring Island, this 524-hectare park is a popular spot for hiking, horseback riding, and mountain biking. Along with the protected lands on Mount Maxwell, Mount Sullivan, and Mount Tuam, this park is part of the largest undeveloped areas within the Gulf Islands.
Boat Access Only
Ballingall Islets ER: Located off Galiano Island, this string of small uninhabited islands, totalling 0.2 hectares, was originally protected to preserve the nesting sites of colonial seabirds. Land access is closed to the general public (you must obtain a permit if you wish to do so), but it's become an area much loved by sea kayakers.
Big Bunsby PMP: This boat-accessed Marine Park, totalling 658-hectares, is located on the West Coast of northern Vancouver Island. The area offers sheltered anchorages and excellent sea kayaking opportunities. It's also a great spot to view whales, Bald eagles and sea otters. Although there are no developed campsites, tenting is allowed on Big Bunsby. Please leave no trace if you do decide to tent here!
Bligh Island PMP: Located in the Nootka Sound area of the West Coast, this 4,455-hectare area is a popular recreational destination for boaters and kayakers who explore the Spanish Pilot Group of islands. Nearby is Charlie's Beach, which offers rustic beach camping for weary boat travellers.
Broughton Archipelago PMP: At 11,751-hectares, this is BC's largest marine park and represents a collection of undeveloped islands off North-Eastern Vancouver Island.
C – Provincial Parks
Cape Scott PP: Located on the northwestern tip of Vancouver Island, Cape Scott offers a rugged coastal wilderness and unspoiled beautiful beaches. At a staggering 22,294-hectares, there's a lot to explore!
Carmanah Walbran PP: Located near Port Renfrew, this 16,365-hectare protected area is home to some of the world's largest and oldest trees. Boardwalks, viewing platforms and rugged trails take you to all the highlights. Road access to this remote park is extremely rough and follows a series of logging roads.
Chemainus River PP: Located near Duncan, this 119-hectare park is cooperatively managed by the Cowichan Valley Regional District. The Chemainus River is a popular spot for anglers trying to catch steelhead in the spring and summer. Undeveloped trails follow the river and lead to various swimming holes.
Clayoquot Arm PP: Located on the west coast, this 3,491-hectare park encompasses the lower Clayoquot River, Clayoquot Lake and the forested slopes of the Clayoquot Arm of Kennedy Lake. You'll find old-growth forests, remote and secluded sandy beaches and uninhabited islets.
Clayoquot Plateau PP: This extremely remote and rugged 3,155-hectare park on the west coast is a high elevation plateau that features old-growth forests, karst features and several small lakes.
Claud Elliott Creek ER, this 231-hectare ecological reserve near Claud Elliot Lake (mentioned below) is a critical habitat for wintering deer and Roosevelt elk.
Claud Elliott Lake PP: Located approximately 12 km north of Woss, this remote 328-hectare undeveloped park has two lakes popular with sport fishing.
Collinson Point PP: Located on Galiano Island, this 24-hectare park is essentially the shoreline of Mount Galiano and protects marine life near Active Pass. The point has trail access and is favourited for the great views and opportunities to see ocean wildlife.
Comox Lake Bluffs ER: This 47-hectare park on Comox Lake protects unusual dry-site plant communities in the Coastal Western Hemlock Zone.
Cowichan River PP: Located between Duncan and Lake Cowichan, the river in this beautiful park is world-renowned for its wild salmon and steelhead fishing. Stolz Pool Campground, Horseshoe Bend Group Campsite, Stolz Falls (rapids) and the 66 Mile Trestle are found in this 1,414-hectare park.
Marine Parks
Catala Island PMP: This 955-hectare park encompasses numerous reefs, islets and marine ecosystems, as well as a lake, bog area and rugged shoreline. Sea kayaking, boating and wilderness camping are the main attractions for visitors. Catala Island is located in Esperanza Inlet on the northwest coast of Vancouver Island, between Nootka Sound and Kyuquot Sound.
Checleset Bay ER: Located southeast of Brooks Peninsula (listed below), this 34,650-hectare ecological reserve protects a marine ecosystem that provides habitat for sea otters and the northern sea lion. The northern boundary includes 40 km of Vancouver Island shoreline.
Cormorant Channel PMP: Located just north of Telegraph Cove, this 775-hectare marine park is a series of undeveloped islands popular with sea kayakers.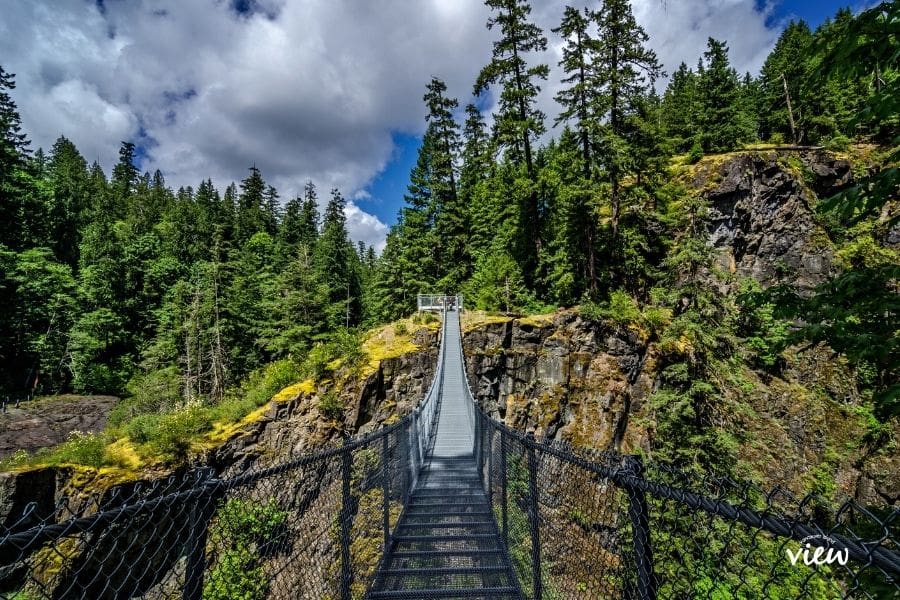 D – E Vancouver Island Provincial Parks
Drumbeg PP: Located on Gabriola Island, this 56-hectare day-use park features a unique topography as well as beautiful ocean views.
Elk Falls PP: Located near Campbell River, this 1,055-hectare park features a suspension bridge, a raging waterfall and a much sought-after campground.
Englishman River Falls PP: This beautiful 97-hectare park is located near Parksville in the small community of Errington. It features two stunning waterfalls, deep canyons, and a lush forest with a mix of old-growth and large second-growth trees.
Eves PP: This small 19-hectare park is located in the community of Westholme in the District of North Cowichan. In 1962, Mrs. Janet Goodall donated the land to the Province, and today visitors enjoy the beautiful hiking trails and scenery.
Marine Access Only Parks
Dawley Passage PP: This boat-accessed 154-hectare park is located at the south end of Fortune Channel between Meares Island and Tofino. The sheltered waters make it a popular spot for kayaking.
Dionisio Point PP: Located at the very north end of Galiano Island, this 142-hectare rugged park offers a unique shoreline, sandy beaches and a beautiful forested area. Scuba divers love this area for its abundance of marine life. 30 walk-in campsites are accessible via the foreshore.
Discovery Island PMP: Located 2 nautical miles east of Victoria, this 61-hectare park has four walk-in campsites used by sea kayakers. There is no sheltered anchorage available at this park.
Dixie Cove PMP: This 156-hectare park is located on Hohoae Island in Kyuquot Sound. It features sheltered anchorage for boaters and is a wonderful fishing and sea kayaking destination.
Epper Passage PP: Accessible by boat only, this 306-hectare park is located between Meares Island and Vargas Island within Clayoquot Sound. The area offers various water-based wilderness recreation activities, including kayaking, boating, fishing, scuba diving and wildlife viewing.
---
Continue reading more about Vancouver Island's Provincial Parks by clicking on the next page.