There are over 120 Vancouver Island Provincial Parks! This includes parks found on the smaller islands surrounding Vancouver Island and Marine Provincial Parks. This large number also includes the three National Parks found here but doesn't include Regional Parks, many of which exist.
British Columbia as a whole has 644 Provincial Parks and 148 Ecological Reserves, totalling 14,112,434 ha of parkland. Compared to the rest of BC, Vancouver Island and the smaller islands surrounding it have a great proportion of land designated as parkland. According to my calculations, a grand total of 537,048.7 hectares, to be exact. It's no wonder visitors flock to our beautiful paradise!
The following is a list of all 128 Vancouver Island Provincial Parks, Marine Provincial Parks and a few Ecological Reserves maintained by the BC Government. As mentioned, the list includes the three National Parks found here, making the total parks listed below 132. To keep it organized, the parks are listed alphabetically.
The parks already written about on our website are linked in blue and can be clicked on for more information. I will update the links and list as we continue to write about more of these parks.
*Acronyms used below:
PP: Provincial Park
PMP: Provincial Marine Park (typically only accessible by boat unless otherwise specified)
ER: Ecological Reserve managed by the BC Government
NP: National Park – park managed by the Government of Canada
A Note About the Sunshine Coast
British Columbia's Sunshine Coast is only a short boat ride from Vancouver Island, and many small islands exist between the two areas. When looking at a map, it's hard to decipher where one area ends and the other begins. For this article, I used Texada Island as my reference point, calling Texada part of the Sunshine Coast and not including it or any islands further east of it in the list below. However, it's a fairly muddy boundary, and boaters often island jump to the many Provincial Parks and Provincial Marine Parks in both areas in one day. Perhaps in a later article, I'll also note all of the parks within the Sunshine Coast.
Jump Right To It
If you know what you are searching for, jump to the park using the table of contents. (Listed in alphabetical order). Otherwise, keep on reading.
NEW!!! I've created a detailed map of all locations mentioned in this article. This helpful resource will give you location data for easier reference.
Any map locations with an image can also be cross-referenced to the corresponding title below, AND/OR you can click on the hyperlink within the image information on the map to find extra details about that park. Essentially, any Vancouver Island Provincial Park I have been to will have a map image and link to more detailed information.
---
A – B Vancouver Island Provincial Parks
Arbutus Grove PP: This small 22-hectare park near Lantzville is a bit of a hidden gem and protects a grove of beautiful Arbutus trees.
Artlish Caves PP: Located between Woss and Zeballos, this 285-hectare park was established to protect Vancouver Island's last remaining undisturbed karst areas.
Bamberton PP: There are 53 vehicle-accessible campsites available at this 28-hectare Provincial Park near Mill Bay. It's also a popular swimming spot due to the warm waters of the sheltered inlet.
Bellhouse PP: Located on Galiano Island, Bellhouse is a small 2-hectare day-use park great for picnics. The area provides excellent views of the very busy Active Pass.
Bodega Ridge PP: This Galiano Island day-use-only park has a 4-km ridge rising 328 meters above sea level. Although this 397-hectare park has no developed facilities, its inspiring scenery and wildlife viewing opportunities make it a popular destination for hikers and passing boaters.
Boyle Point PP: This scenic 188-hectare day-use park on the southern tip of Denman Island is a popular exploring place. The forested trail has some of Denman's oldest and largest trees, leading to spectacular views of Baynes Sound and the Chrome Island Lighthouse.
Burgoyne Bay PP: Located near Fulford Harbour on Salt Spring Island, this 524-hectare park is a popular spot for hiking, horseback riding, and mountain biking. Along with the protected lands on Mount Maxwell, Sullivan, and Mount Tuam, this park is part of the largest undeveloped areas within the Gulf Islands.
Boat Access Only
Ballingall Islets ER: Located off Galiano Island, this string of small uninhabited islands, totalling 0.2 hectares, was originally protected to preserve the nesting sites of colonial seabirds. Land access is closed to the general public (you must obtain a permit if you wish to do so), but it's become an area much loved by sea kayakers.
Big Bunsby PMP: This boat-accessed Marine Park, totalling 658 hectares, is located on the West Coast of northern Vancouver Island. The area offers sheltered anchorages and excellent sea kayaking opportunities. It's also a great spot to view whales, Bald eagles and sea otters. Although there are no developed campsites, tenting is allowed on Big Bunsby. Please leave no trace if you do decide to tent here!
Bligh Island PMP: Located in the Nootka Sound area of the West Coast, this 4,455-hectare area is a popular recreational destination for boaters and kayakers who explore the Spanish Pilot Group of islands. Nearby is Charlie's Beach, which offers rustic beach camping for weary boat travellers.
Broughton Archipelago PMP: At 11,751 hectares, BC's largest marine park represents a collection of undeveloped islands off North-Eastern Vancouver Island.
C – Provincial Parks
Cape Scott PP: Located on the northwestern tip of Vancouver Island, Cape Scott offers a rugged coastal wilderness and unspoiled beautiful beaches. At a staggering 22,294 hectares, there's a lot to explore!
Carmanah Walbran PP: Located near Port Renfrew, this 16,365-hectare protected area is home to some of the world's largest and oldest trees. Boardwalks, viewing platforms and rugged trails take you to all the highlights. Road access to this remote park is extremely rough and follows a series of logging roads.
Chemainus River PP: Located near Duncan, this 119-hectare park is cooperatively managed by the Cowichan Valley Regional District. The Chemainus River is a popular spot for anglers trying to catch steelhead in the spring and summer. Undeveloped trails follow the river and lead to various swimming holes.
Clayoquot Arm PP: Located on the west coast, this 3,491-hectare park encompasses the lower Clayoquot River, Clayoquot Lake and the forested slopes of the Clayoquot Arm of Kennedy Lake. You'll find old-growth forests, remote and secluded sandy beaches and uninhabited islets.
Clayoquot Plateau PP: This extremely remote and rugged 3,155-hectare park on the west coast is a high-elevation plateau with old-growth forests, karst, and several small lakes.
Claud Elliott Creek ER, this 231-hectare ecological reserve near Claud Elliot Lake (mentioned below) is a critical habitat for wintering deer and Roosevelt elk.
Claud Elliott Lake PP: Located approximately 12 km north of Woss, this remote 328-hectare undeveloped park has two lakes popular with sport fishing.
Collinson Point PP: Located on Galiano Island, this 24-hectare park is essentially the shoreline of Mount Galiano and protects marine life near Active Pass. The point has trail access and is favourited for the great views and opportunities to see ocean wildlife.
Comox Lake Bluffs ER: This 47-hectare park on Comox Lake protects unusual dry-site plant communities in the Coastal Western Hemlock Zone.
Cowichan River PP: Located between Duncan and Lake Cowichan, the river in this beautiful park is world-renowned for its wild salmon and steelhead fishing. Stolz Pool Campground, Horseshoe Bend Group Campsite, Stolz Falls (rapids) and the 66 Mile Trestle are found in this 1,414-hectare park.
Marine Parks
Catala Island PMP: This 955-hectare park encompasses numerous reefs, islets and marine ecosystems, as well as a lake, bog area and rugged shoreline. Sea kayaking, boating and wilderness camping are the main attractions for visitors. Catala Island is located in Esperanza Inlet on the northwest coast of Vancouver Island, between Nootka Sound and Kyuquot Sound.
Checleset Bay ER: Located southeast of Brooks Peninsula (listed below), this 34,650-hectare ecological reserve protects a marine ecosystem that provides habitat for sea otters and the northern sea lion. The northern boundary includes 40 km of Vancouver Island shoreline.
Cormorant Channel PMP: Located just north of Telegraph Cove, this 775-hectare marine park is a series of undeveloped islands popular with sea kayakers.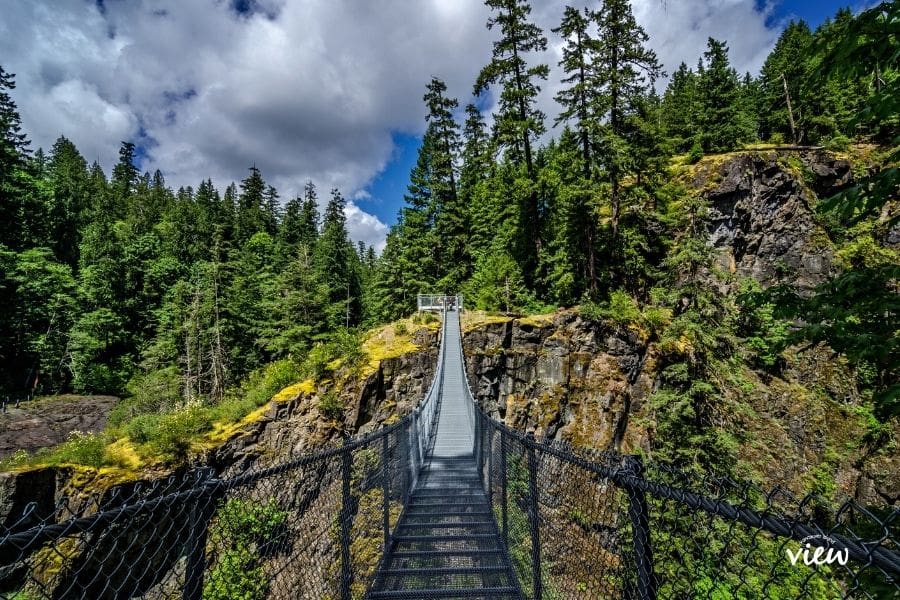 D – E Provincial Parks
Drumbeg PP: Located on Gabriola Island, this 56-hectare day-use park features a unique topography and beautiful ocean views.
Elk Falls PP: Located near Campbell River, this 1,055-hectare park features a suspension bridge, a raging waterfall and a much sought-after campground.
Englishman River Falls PP: This beautiful 97-hectare park is located near Parksville in the small community of Errington. It features two stunning waterfalls, deep canyons, and a lush forest mix of old-growth and large second-growth trees.
Eves PP: This small 19-hectare park is located in the community of Westholme in the District of North Cowichan. In 1962, Mrs. Janet Goodall donated the land to the Province, and today visitors enjoy the beautiful hiking trails and scenery.
Marine Access Only Parks
Dawley Passage PP: This boat-accessed 154-hectare park is located at the south end of Fortune Channel between Meares Island and Tofino. The sheltered waters make it a popular spot for kayaking.
Dionisio Point PP: Located at the north end of Galiano Island, this 142-hectare rugged park offers a unique shoreline, sandy beaches and a beautiful forested area. Scuba divers love this area for its abundance of marine life. 30 walk-in campsites are accessible via the foreshore.
Discovery Island PMP: Located 2 nautical miles east of Victoria, this 61-hectare park has four walk-in campsites used by sea kayakers. There is no sheltered anchorage available at this park.
Dixie Cove PMP: This 156-hectare park is on Hohoae Island in Kyuquot Sound. It features a sheltered anchorage for boaters and is a wonderful fishing and sea kayaking destination.
Epper Passage PP: Accessible by boat only, this 306-hectare park is between Meares Island and Vargas Island within Clayoquot Sound. The area offers various water-based wilderness recreation activities, including kayaking, boating, fishing, scuba diving and wildlife viewing.
---
F – G Provincial Parks
Fillongley PP: This beautiful 26-hectare park on Denman Island provides ten oceanside campsites, an estuary, a salmon spawning stream, and an old-growth forest. Beachcombing, swimming and kayaking are all popular activities at this park.
Fort Rodd Hill and Fisgard Lighthouse National Historic Sites (NP): At this National Historic Site near Victoria, one can view the oldest lighthouse on Canada's West Coast. You can also tour through secret bunkers, military command posts and original 19th-century buildings at Fort Rodd Hill. The area also protects a restored Garry oak meadow. And yes, you can camp here too in their outdoor oTENTik's!
Fossli PP: This breathtaking 52-hectare day-use park is one of Port Alberni's hidden gems. With crystal clear creeks, moss-covered rocks and a lush forest, walking in this park makes you feel like you are in another world.
French Beach PP: This beautiful beach on the scenic Strait of Juan de Fuca is the ideal spot to explore. In the spring and fall, it's a popular location to watch for migrating Gray whales. The 55-hectare park offers 69 year-round vehicle-accessible camping sites.
Gabriola Sands PP: This picturesque 6-hectare day-use park features two sandy beaches and large manicured lawns on the north end of Gabriola. Swimming, picnicking, and field games are popular activities at this park.
Gold Muchalat PP: This 653-hectare park near Gold River offers a pristine wilderness environment for sports fishing, wildlife viewing and rustic hiking. The park provides a key winter habitat for Roosevelt elk and black-tailed deer and is home to the Marbled Murrelet and a variety of fish species.
Goldstream PP: This popular 477-hectare park near Victoria offers an old-growth forest, two large waterfalls and a beautiful stream that's the site of the annual salmon run in the fall. Goldstream offers plenty of vehicle-accessible campsites and two large group sites.
Gordon Bay PP: This sought-after campground on Lake Cowichan is in an area that boasts some of the highest annual temperatures in Canada. This 104-hectare park is ideal for swimming, boating, and freshwater fishing.
Gowlland Tod PP: This 1,280-hectare day-use park near Victoria offers more than 25 km of hiking trails in varying degrees of difficulty. The park encompasses nearly the entire east side of the Saanich Inlet and protects one of Greater Victoria's last remaining natural areas.
Gulf Islands National Park Reserve (NP): 15 islands and over 30 islets comprise this National Park Reserve, totalling approximately 3,700 hectares. Many of the parks in this area were former Provincial Parks before the National Park status. Frontcountry, backcountry and overnight boat camping are available on several islands. Visitors also love to kayak, view wildlife, hike or visit the islands via day trips by boat.
Provincial Marine Parks only Accessible by Boat
Flores Island PP: This remote 7,113-hectare park and small island off the west coast is home to a population of wolves. Visitors enjoy wilderness hiking, whale watching, kayaking, fishing and beach camping. This island is only accessible by boat.
Gibson PMP: Situated adjacent to Flores Island on the west coast, this 143-hectare park offers sheltered anchorage, sandy beaches, and natural warm springs.
God's Pocket PMP: Home to a group of small islands just off Port Hardy, this 2,036-hectare park provides some of the best scuba diving on Vancouver Island. Sheltered anchorage is available, and the area offers plenty of fishing and wildlife viewing opportunities.
H – J Provincial Parks
Helliwell PP: This oceanside hiking destination and the 2,872-hectare park is on Hornby Island. You are greeted with beautiful ocean views as you walk along the cliffside and through a small stand of old-growth Douglas fir.
Hemer PP: Located in Cedar on Holden Lake (South Nanaimo area), this forested 109-hectare park is a popular walking destination. Viewing platforms over the marshy areas provides opportunities to see Trumpeter swans, various ducks, and other marsh birds. Beavers have also been spotted in the area.
Horne Lake Caves PP: Located near Qualicum Beach, this 158-hectare park provides access to the underground world through guided and self-guided caving tours. Above ground, visitors can find beautiful forested trails, an interpretive trail and a suspension bridge.
John Dean PP: This 174-hectare park is at the top of Mount Newton on the Saanich Peninsula. The area is a popular hiking destination, as it features a stand of old-growth forest and some of the largest Douglas fir trees in the area.
Juan de Fuca PP: Situated on the southwest coast of Vancouver Island, this popular 1,528-hectare park offers wild and scenic hiking and camping opportunities. China Beach campground and day-use area, the 47 km Juan de Fuca Marine Trail, and the world-renowned Botanical Beach are all found in this park.
Boat Accessible Only Parks
Ha'thayim (Von Donop) PMP: This undeveloped wilderness marine park totalling 1,277-hectares is found on the northwestern tip of Cortes Island. It offers several secure and sheltered anchorages for boaters. And once onshore, remote lakes, estuaries, an old-growth forest, and a saltwater lagoon can all be found.
Hesquiat Lake PP: Located on the west coast in Clayoquot Sound, this extremely remote park is only accessible by boat or floatplane. The 62-hectare park protects a mature forest of hemlock, red cedar and pine trees. As this area is so difficult to access, very few people visit this park, and it remains completely undeveloped and unspoiled.
Hesquiat Peninsula PP: This 7,888-hectare park encompasses most of the eastern shore of Nootka Sound. The area is adjacent to Cougar Annie's Garden, a heritage garden and attraction one can visit via a guided tour. This park is only accessible by boat or float plane.
Jedediah Island PMP: Located between Lasqueti Island and Texada, this small island and 603-hectare park is a popular boating and kayaking destination. The many secluded bays and coves offer safe anchorage and beach camping opportunities.
K – L Provincial Parks
Kennedy Lake PP: This popular 241-hectare day-use park is found en route to Tofino and Ucluelet. Kennedy Lake is the largest lake on Vancouver Island and is a popular spot for boaters, paddlers, windsurfing and swimming.
Kin Beach PP: This small 6-hectare park near Comox offers a large day-use area with a playground and picnic facilities. This is also a popular camping location. The rocky beach offers great exploration.
Kitty Coleman PP: This popular 10-hectare park near Merville is ideal for swimming, boating, fishing, and oceanfront camping. The park protects the mature forest of Western hemlock, Western red cedar and Douglas fir.
Koksilah River PP: Located on the west side of Shawnigan Lake, this 230-hectare day-use park offers rustic hiking trails, fishing and a few swimming opportunities (although there are no designated swimming spots).
Lasqueti Island ER: This 201-hectare Ecological Reserve protects a shoreline forest of one of BC's largest populations of seaside junipers. You can find this ER on the south shore of Lasqueti Island.
Lawn Point PP: This extremely remote 594-hectare park in the Quatsino Sound area is difficult to access. However, sea kayakers use it as a wilderness camping spot before exploring Brooks Peninsula. The park is also accessible by land near Port Alice via a series of rough logging roads.
Little Qualicum Falls PP: Located near Qualicum Beach, this 440-hectare park offers camping opportunities, beautiful forested and well-maintained trails, and a stunning waterfall. The upper and lower campgrounds provide plenty of vehicle-accessible camping opportunities.
Loveland Bay PP: Located on Lower Campbell Lake near Campbell River, this popular 30-hectare park provides beautiful rustic camping. Campbell Lake is a wonderful spot to swim, boat, waterski, and fish.
Lower Nimpkish River PP: Located approximately 5 km south of Port McNeill, this 200-hectare undeveloped wilderness park helps to protect important Bald eagle and Marbled Murrelet nesting sites. The Marbled Murrelet is a small seabird that nests in old-growth forests and is a threatened species.
Lower Tsitka River PP: This extremely remote black bear and salmon habitat area is located 20 km east of Woss. Very few people visit this 3,745-hectare park, as it's only accessible via rough and unmarked logging roads.
Boat Only Parks
Kennedy River Bog PP: This small 11-hectare park sits adjacent to the bank of the Kennedy River on the west coast. It's a wonderful area to bird watch. There are no developed trails to this park, so the only way to access it is via Kennedy Lake. The closest launching area for canoes and kayaks is the Kennedy River bridge.
Lanz and Cox Islands PP: Situated north of Cape Scott, these extremely remote islands totalling an area of 5,556 hectares, were set aside to protect important seabird nesting colonies. These islands can experience extreme weather conditions at any time of the year, making them difficult to access. The rugged coastline and steep slopes also make landing onshore nearly impossible.
---
M – Provincial Parks
MacMillan PP (Cathedral Grove): Located 25 km west of Qualicum Beach, this popular 301-hectare day-use park provides beautiful walking trails through an old-growth forest.
Main Lake PP: This 3,530-hectare park on Quadra Island encompasses six lakes that offer incredible canoeing, kayaking, and wilderness lakeside camping opportunities. Small boats with electric motors are also allowed on a few lakes.
Mansons Landing PP: Located on Cortes Island, this 100-hectare park offers freshwater swimming in Hague Lake and marine access via Manson Bay.
Marble River PP: This northern Vancouver Island 1,419-hectare park is approximately 15 km north of Port Alice. The area provides wilderness hiking, wildlife viewing opportunities, and fishing.
Miracle Beach PP: This popular 137-hectare park in the Comox Valley offers 193 spacious private campsites and a beautiful sandy beach.
Montague Harbour PMP: Located on Galiano Island, this 102-hectare park offers scenic vehicle-accessible and walk-in campsites and 35 buoys in the sheltered Montague Harbour accessible to boaters.
Morden Colliery Historic PP: Located near Nanaimo, this 4-hectare day-use park contains the only remaining coal tipple on the Island. Short trails run through the park and lead to the Nanaimo River.
Morton Lake PP: Located near Campbell River, this 74-hectare park offers lake-front camping, a boat launch, fishing opportunities, and a short hiking trail to nearby Andrew Lake.
Mount Geoffrey Escarpment PP: Located on Hornby Island, this 187-hectare park offers hiking and mountain biking opportunities with spectacular views.
Mount Maxwell PP: This 231-hectare park on Salt Spring Island offers visitors incredible hiking opportunities that lead to superb views of Vancouver Island and the surrounding Gulf Islands.
Mount Tzuhalem ER: Located near Duncan, this small 18-hectare Ecological Reserve is an incredible location to view and photograph rare wildflowers in the spring.
Boat Only Parks
Maquinna PMP (Hot Springs Cove): Located near Tofino, this boat-accessible 2,667-hectare park offers warm natural springs and a beautiful walk along a boardwalk trail.
Memory Island PP: At 0.915 hectares, this small island on Shawnigan Lake is also one of BC's smallest parks. And yet, it's a sanctuary and habitat for various small mammals, birds, amphibians, reptiles, plants and fungi. Memory Island is accessible by boat (motorized and unmotorized) from various points on Shawnigan Lake.
Mitlenatch Island Nature PP: Located east of Black Creek, this 155-hectare park is home to the largest seabird colony in the Strait of Georgia. Due to the sensitive bird habitat, most of the island is closed to the public. However, the area offers excellent opportunities for boaters to observe and photograph various birds.
MquqWin / Brooks Peninsula PP: Located on northwest Vancouver Island, this beautiful area totalling 39,936 hectares, offers shelter, sandy beaches, hiking, and wilderness experiences.
---
N – Q Provincial Parks
Nimpkish Lake PP: Located 32 km south of Port McNeill, this large 3,950-hectare park protects an old-growth coastal western Hemlock forest. The easiest access is by boat from Nimpkish Lake or via moderate to strenuous hiking found off nearby logging roads.
Nitinat River PP: This 160-hectare scenic park has no developed day-use or camping facilities; however, the area provides great fishing opportunities. The park can be reached by logging roads from Port Alberni, Cowichan Lake and Port Renfrew.
Pacific Rim NP – Located on the west coast between Ucluelet and Tofino, this large National Park, totalling 51,100 hectares, is known worldwide. The park encompasses Long Beach, the Broken Group Islands, and the ever-popular 75-km West Coast Trail. Surfing, beachcombing, tide pool exploration, paddling, and hiking are all popular activities within the park. Camping is also available at Green Point Campground.
Petroglyph PP: At this Nanaimo PP, you can find the most concentrated collection of rock art on Vancouver Island. It's a small 2-hectare park that offers a treasure hunt of sorts to its visitors.
Quatsino PP: Located on northern Vancouver Island, the easiest access to this 654-hectare undeveloped park is by boat; however, it can also be accessed by active logging roads. Kayakers sometimes stop overnight here, but there are no designated camping spots or facilities of any kind. Vehicle-accessible camping is found nearby at Koprino Harbour, operated by Southwest Forest Products Ltd.
Boat Only
Newcastle Island PMP (Saysutshun): A 10-minute boat ride from Nanaimo brings you to this small island and 363-hectare park full of rich history and culture. Visitors can hike, picnic, and/or camp at one of the 18 designated sites.
Nuchatlitz PP: This 2,105-hectare park encompasses the northwestern tip of Nootka Island and many smaller islands surrounding it. The maze of islets and reefs provides picturesque views for boaters, kayakers, and wilderness camping opportunities.
Octopus Islands PMP: This stunning 762-hectare park near Quadra Island offers sheltered anchorage and a haven for boaters.
Pirates Cove PMP: This boat-accessible park on De Courcy Island protects a beautiful natural environment visitors love. Recreational activities at this 31-hectare park include kayaking, camping, hiking, swimming, beach exploration and even wildlife viewing.
---
R – Provincial Parks
Raft Cove PP: This remote and rustic 787-hectare park near Cape Scott offers visitors a gorgeous sandy bay and wilderness camping on the beach.
Rathtrevor PP: This top-rated 347-hectare park in Parksville is a family-favourite camping destination. The wide sandy beach offers warm ocean swimming in shallow water.
Rebecca Spit PMP: This popular 177-hectare day-use park on Quadra Island is used for beach exploration, walking trails, kayaking, swimming and picnicking.
Roberts Memorial PP: Located in Yellowpoint, this 14-hectare day-use park features a 1 km trail through a mature forest to a unique sandstone shoreline.
Rosewall Creek PP: This 54-hectare park near Qualicum Beach protects an important area for wintering waterfowl. It also provides access to beautiful Rosewall Creek Falls.
Ruckle PP: This 529-hectare park on Salt Spring Island is said to be one of the most beautiful parks in the southern Gulf Islands. The park offers vehicle-accessible and tent camping sites and many nature activity opportunities.
Boat Access Only Parks
Read Island PP: Located among the Quadra Island group, this 637-hectare park protects an important high-density bald eagle habitat. It's also a great place to spot seals and sea lions.
Rendezvous Island South PP: Located in the heart of the Discovery Islands, this 163-hectare park encompasses the Rendezvous Island group found on the east side of Read Island (above).
Robson Bight (Michael Bigg) ER: This 1,715-hectare Ecological Reserve near Telegraph Cove was established to provide a sanctuary for killer whales. The area provides unique opportunities for whale research.
Rugged Point PMP: This 349-hectare park is located on the west coast in Kyuquot Sound. The stunning shoreline, protected beaches, and sheltered anchorages make it a popular spot to visit among kayakers and boaters.
---
S – Provincial Parks
Sandwell PP: This 17-hectare park on Gabriola Island is a great place to picnic, walk or suntan on the beach. At low tide, you can also search for the petroglyph.
Sandy Island (Jáji7em and Kw'ulh) PMP: Located off the northern tip of Denman Island, this 30-hectare park includes Sandy Island, known locally as Tree Island, and the Seal Islets. The area is accessible by boat from Union Bay or by foot from Denman when the tide is out. It's a lovely spot to swim and sunbathe.
Schoen Lake PP: This large 8,430-hectare remote park near Woss offers fantastic trails to view glaciers and wildlife. Schoen Lake is a popular boating, fishing, swimming and camping area.
Smelt Bay PP: Located at the south end of Cortes Island, this 20-hectare park offers 22 spacious campsites overlooking the bay for both tents and smaller RVs.
Sooke Mountain PP: This 450-hectare undeveloped wilderness park north of Sooke has no vehicle access, making it a popular location for hikers and mountain bikers.
Sooke Potholes PP: This 7.28-hectare day-use park in Sooke is ideal for watching the annual salmon spawning run in the fall. Nearby is a series of deep, naturally carved rock pools photographers love. During the summer, the polished rocks provide a great sunbathing platform and deep pools of water, a spectacular spot to swim.
Spectacle Lake PP: This 67-hectare park in the Cowichan Valley provides an excellent trail system and a small lake to swim, canoe, kayak, fish, or picnic.
Spider Lake PP: Located near Qualicum Beach, this 64.59-hectare park features a beautiful lake and picnic area. Swimmers love the warm water, and fresh-water anglers enjoy trying to catch the stocked smallmouth bass and rainbow trout.
Sproat Lake PP: This Port Alberni park is popular for campers and boaters. The 43-hectare park offers two campgrounds and a large day-use area. It is also home to one of the finest panels of petroglyphs in British Columbia.
Squitty Bay PP: This small 12-hectare day-use park is located near the southeast tip of Lasqueti Island. The park offers rocky headlands and arid terrain, including prickly pear cacti and Rocky Mountain juniper.
Stamp River PP: Another beautiful park in Port Alberni is Stamp River. This 327-hectare park comes to life in the fall with the annual salmon run and the colour change of the big-leaf maples. The waterfall is also a wonderful attraction.
Strathcona PP: Designated in 1911, this is BC's oldest Provincial Park and, at 248,669 hectares, one of the largest. The park is divided into Buttle Lake and its vicinity and Forbidden Plateau.
Boat Only Parks
Sabine Channel PMP: Located between Lasqueti and Texada Islands, this 95-hectare park encompasses an area of more than 30 islands and rocky islets. Jervis, Bunny and Jedediah are three of the largest of the group.
Santa Boca PP: Part of the popular Nootka Sound, this 440-hectare park is popular among kayakers and boaters. The area offers excellent opportunities for wilderness camping, fishing and wildlife viewing. Sheltered anchorages in Boca de Infierno Bay and Santa Gertrudis Cove make it a popular stopover on the route through Nootka Sound. The park is also adjacent to Yuquot (Friendly Cove), the site of the first formal contact between European explorers and First Nations.
Small Inlet PP: Located on the northern tip of Quadra Island, this 487-hectare park provides well-protected anchorages for boaters. A small lake is accessible onshore via a rough 1.5 km portage trail. This same trail will eventually connect you to Octopus Islands PMP (mentioned above).
Sulphur Passage PP: This 2,232-hectare undeveloped wilderness area is northeast of Clayoquot Sound. It's a popular kayaking destination due to the number of birds, fish and marine mammals the park helps to protect.
Surge Narrows PP: On the south end of Maurelle Island, just east of Quadra, this 488-hectare area offers a unique tidal change passage. The tidal currents are powerful and travel through the narrows should only occur at slack tide.
Sydney Inlet PP: This 2,774-hectare park in northern Clayoquot Sound provides one of the best examples of a fjord on Vancouver Island. This makes it a popular boating and kayaking destination. The park also protects a large old-growth Sitka spruce and Douglas fir forest.
T – Y Provincial Parks
Tahsish-Kwois PP: This isolated 10,972-hectare park in the Kyuquot Sound area is accessible by boat via the Tahsish Inlet or by hiking. The area features two lakes, a large old-growth forest, a scenic river canyon, river valleys and an Ecological Reserve.
Taylor Arm PP: Found on the north shore of Sproat Lake, this 71-hectare forested park offers six group campsites, an undeveloped beach and two day-use areas.
Tribune Bay PP: This popular white sand beach and turquoise-coloured bay on Hornby Island is nicknamed "Little Hawaii." The 95-hectare park is also a great place to swim, as the shallow waters provide one of BC's warmest saltwater swimming areas.
West Shawnigan Lake PP: This small 9.7-hectare day-use area provides access to beautiful Shawnigan Lake, a popular spot to swim, waterski, and windsurf.
Weymer Creek PP: Located 5 miles southeast of the village of Tahsis, this 316-hectare park is known for having some of the deepest and longest caves in Canada. However, these caves should only be explored if you have caving experience and the right equipment.
White River PP: Nicknamed "Cathedral Grove of the North," this 72-hectare undeveloped wilderness area protects an old-growth forest. It's also an important habitat for Roosevelt Elk and black bears. White River PP is located 7 km west of Schoen Lake PP, mentioned above, and accessed by gravel logging roads.
Woss Lake PP: This undeveloped wilderness park totalling 6,634 hectares is situated on the southern portion of Woss Lake, so typically only accessible by boat from the launch at the north end of the lake. However, walk-in access is possible from logging roads on the lake's west or east side. For those who do make the journey, there is a beautiful waterfall to view, as well as permanent snowfields in the steep forested slopes above the lake.
Yellow Point Bog ER: This 137-hectare Ecological Reserve in Yellow Point offers visitors a 5.3 km loop trail and the possibility to view beautiful wildflowers in the spring.
Boat Only Parks
Thurston Bay PMP: Located on the northwest side of Sonora Island, this 531-hectare park provides sheltered anchorage for boaters. The protected bay is ideal for paddling, swimming, fishing, or exploring the beach. There is a rough trail onshore that leads to Florence Lake.
Vargas Island PP: Located near Tofino, this 5,805-hectare park and Island is a popular paddling and wilderness camping destination. Gray whales and wolves are frequently seen in the area.
Wakes Cove PP: This 205-hectare park on Valdes Island offers sheltered anchorage, rustic hiking trails and wildlife viewing opportunities. The area is surrounded by private property, so visitors must be aware of park boundaries when onshore.
Wallace Island PMP: Located between Salt Spring and Galiano Islands, this 89-hectare park and island is a popular destination for boaters and kayakers. Numerous beaches and coves provide sheltered anchorage for day-trippers and overnight campers.
Whaleboat Island PMP: This small 10-hectare islet in the DeCourcy Group provides boaters and kayakers picturesque views of interesting geological formations. However, the island's steep rocky banks make this small island extremely difficult to access, so best viewed from the water.
---
Now, that's a list! How many of these parks have you been to? Which one is your favourite to explore? Let us know in the comment section below.
To save this article for future use, please pin any of these images on Pinterest: (Images represent parks found in all four regions of Vancouver Island; South, West, East and North).